Click on the decal you would like.
You can then select desired color, size, and quantity and even order it online.
Click here for shipping turnaround time.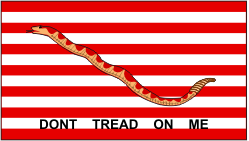 (available in color shown only)
As of 9/11/2002 the original Navy Jack
has replaced the Union Jack on all U.S.
Naval vessels until the War on Terrorism
has been won.
(Available in color shown only)
SOLID STYLE DECALS
(Available in single colors)
Combination and Outline Styles
(Available in any single outline color or any combination of two colors.)

Fixed Color Style

(available in colors shown only)
Other Stuff of Naval Interest


Hull Numbers
To order hull numbers use the this general purpose lettering form.
Use Princetown Solid-Normal for font, white (if applying to a dark surface) or medium gray (for a light surface) for text color, and sellect shadow, lower right, in black (dark gray for a black surface). You can also purchase a matching ship's name this way.