Shapes
Need a background for some decal lettering or graphic, a piece of vinyl in a specific shape or size, or
need an outline to put over a graphic or lettering?
Then you have come to the right place.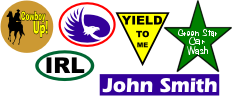 Our decals won't bite each other, and there is no problem putting one on top of the other.
Just order both pieces, the shape at least an inch or two larger, and put them together when they arrive.
Quite easy and can yield some cool results.
Choose a shape and customize size and color(s).